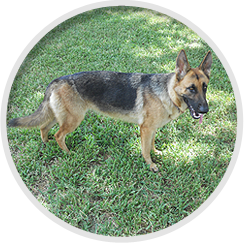 A Truly Majestic Breed
The German Shepherd Dog (GSD) is truly a majestic breed; inherently obedient, devoted, loyal, and has great stamina and beauty. These breed traits don't stop here, German Shepherds are also fearless and adaptable. They are known for their courage, problem solving ability, natural curiosity, and dependability. German Shepherds are known to be highly intelligent and they move gracefully with their own style, evident in the way the GSD carries itself. This form of movement is referred to as trotting which appears to everyone else as almost effortless.
Taken all together these are the traits that make this majestic breed so popular and capable of being a loyal companion, therapy dog, guide dog, law enforcement canine, search and rescue dog, or a child's best protector and friend.