Meet our Foundation German Shepherds
Our Goal: To Advocate for Healthy GSDs that Reflect the Legendary Quality of the Breed
IF YOU ARE LOOKING FOR THE BEST GERMAN SHEPHERD DOGS THAT A WORKING HOUSEHOLD CAN ACCOMMODATE INTO THEIR BUDGET, THEN THESE ARE YOUR CHAMPIONS!  WE OFFER YOU A WRITTEN HEALTH GUARANTEE THAT ASSURES YOU THAT YOUR MONEY STAYS WITH THE HOUSEHOLD NOT  INVESTED WITH THE VET.  This means that you can buy a Majestic German Shepherd here,  and you avoid making the mistake of buying a sick dog from individuals that don't understand breeding.
NOTE:  People that don't understand appropriate breeding practices will produce sick dogs, then you run the risk of buying them at bargain basement prices. DON'T BE FOOLED!! You either buy an excellent pedigree and excellent health histories, or you will end up buying the Veterinarian's wife a new SUV!!  THIS LEGENDARY DOG BREED DESERVES FOR SOMEONE TO SPEAK THE TRUTH ABOUT BAD BREEDING PRACTICES.
Winter Rose de Hacienda Zatarain

AKC DN32454504
DOB: 12/21/11
Weight: Approximately 65 lbs.
Color: Red & Black saddleback
Winter Rose has a good temperament. Her confirmation appears to meet the breed standard. She will stand her ground with strangers, yet will quietly tolerate unknown house guests if they are invited inside the house. Winter is well socialized and interacts with small children well. Winter has a strong prey drive and is the alpha female relative to the other dogs on this property. Winter is also the smallest in size relative to the other GSD's. She is obedient, very attentive and eager to please. All of our dogs spend 70% of their time inside and Winter is well behaved while in the house. Winter Rose has an excellent pedigree and is a product of 2 time *World Ranked Dux De Cuatro Flores, and the Hill Von Farbenspiel bloodlines. Winter's pedigree indicates many Shutzhund titled ancestors coming from working German bloodlines.
*Winter's great grandfather, Dux de Cuatro Flores, was ranked number six in the world in 2005 and ranked number three in the world in 2007. Source: www.WorldclassGSD.com. Overall we believe Winter Rose is an excellent example of an intelligent, good tempered, well mannered, and multipurpose GSD.
http://www.worldclassgsd.com/World_Sieger/dux_de_cuatro_flores.htm
---
Shasta Daisy Maison de Fleur Noire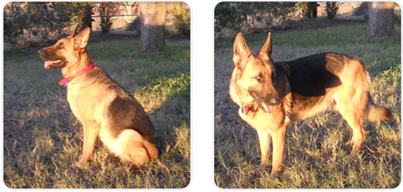 AKC DN32834804
DOB: 2/5/2012
Weight: Approximately 75 lbs.
Color: Red & Black saddleback
Shasta Daisy has a good temperament, and her confirmation appears to meet the GSD breed standards. She is tall, long and lean, with a large head and long nose. Her blood lines appear to be a combination of German working lines and American show lines. If you research American show line standards, it seems that they are describing Shasta's confirmation. Shasta is currently our largest GSD relative to the other two. Shasta is very intelligent, headstrong, and very determined to get her way.
She is also very social and has developed a very special relationship with her trainer. For example, German competition shows have videos that show the GS dog's eyes locked on the trainer as they run together. The dog in these videos is focusing only on the trainer. Shasta has that quality and intensity. Shasta's progeny are good candidates for either confirmation shows and/or Shutzhund training. She has the intellect, drive and desire to perform.
Shasta is currently not over aggressive, she plays with small children, cautiously accepts strangers and will definitely stand her ground. Shasta has numerous SCHH titles for multiple generations starting with her grandmother on her father's side. Shasta is an above average GSD with unfilled potential, sure to be remedied in the future.
Shasta Daisy has an outstanding pedigree, particularly on her Sire's side. The blood lines in this pedigree include VA1 Urban vom Gliesenauer SCHH3 (US & Canada); V Tino vom Felsenschlos SCHH3; VA7 Ghandi von Artlett SCHH3; VA1 Ursus Von Batu SCHH3; 2x VA1 Quando Von Arminus; and V Mentor vom Haus Iris SCHH3 (DDR)
Numerous VA, V & SG-DDR (East Germany) pedigrees can also be found on her father's side. The Deutsche Demokratische Republic (DDR) breed description indicates a larger boned GSD, slightly stretched in appearance, long nose, large head, and straight back and very strong willed, very determined and extremely intelligent. Shasta Daisy does possess these characteristics. In the last few generations she acquired a more traditional red and black saddle back appearance as opposed to the stereotypical Sable coloration described in the DDR literature. Photos of past GSD's in her lineage look black or Sable.
---
Ruby Rae Bella del Sur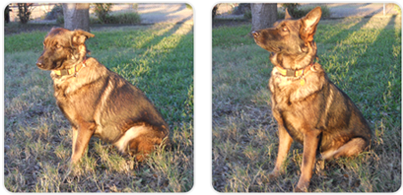 AKC DN33489803
DOB: 4/18/12
Weight: Approximately 75 lbs.
Color: Sable, Red/Black
Ruby Rae is an exceptionally beautiful and majestic looking German Shepherd Dog!
Ruby Rae is aloof and is always watchful. She is cautious, intelligent, well mannered, and quiet. Ruby also seems to be an excellent candidate for GSD confirmation competition as well as an excellent candidate for Shutzhund training. Ruby is well mannered in the house and also plays well with small children.
Ruby Rae does have a strong prey drive and will stand her ground. Ruby is very sweet with the immediate family; however her size, striking long sable coat, dark mask, and the intensity of her golden eyes make her very imposing.
Ruby Rae has strong champion German working lines on both sides for over 5 generations. (Tal der Shatten blood line.) Many of these German Shepherds have dark pigmentation.
Ruby has V and VA Champions with Schutzhund 1,2, & 3 titles on both the Sire and the Dam's side of her pedigree. Photos of her lineage indicate dark pigmentation, black, and sable coats.
---
MAJESTIC GERMAN SHEPHERD STUD
The following is information regarding, Schwarzbaren Vom Benedict Haus who is Majestic German Shepherds' lead stud.
Schwarzbaren Vom Benedict Haus
Schwarzbaren is a "hard" dog and was selected as the current primary stud for the Majestic German Shepherds' breeding program. He will contribute his specific genetic qualities of calmness, composed temperament, intelligence, structure, determination, and dark pigmentation.
Schwarzbaren is a large boned straight back, thick black/bi-color GSD. He has a large head, penetrating alert eyes, mid-size nose, nice ear set, excellent confirmation, and a surprising relaxed self- assured personality. He is very intelligent, not easily distracted, attentive, and alert. He takes guard duty cues well from older and more experienced GSD's. He plays well with others.
Overall he is already developing into a very well rounded GSD, capable of multi-tasking with indoor companion and guard duties, trips from home, behaving well in public places; as well as perimeter patrol on the fence line. With further training, experience, and age he should do very well with his development with other skill sets and protection duties. We are very fortunate to have acquired this very special majestic GSD.
Schwarzbaren's Sire AKC Arek Vom Norben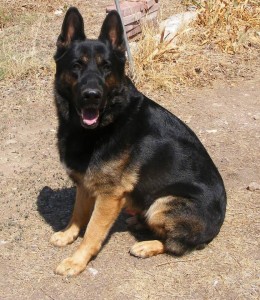 United Kennel Club Show Champion, AKC Canine Good Neighbor (CGC), AKC Companion Dog (CD).
UKC registration number P540-242, and AKC registration number DN15430702
Arek is currently a therapy dog in the Ft. Hood, Texas region.
Hips good/Elbows normal-AKC DNA Profile V626348. 2 copies of normal genes associated with Degenerative Myelopathy (DM) AKC letter dated 9/3/08. Elbow dysplasia "Normal" from OFA, Hips-good, 9/12/08. Therapy Dog Registration 123046, Therapy Dogs International.
.
Grandfather: Henry vom Odland, International Grand Champion, HD-good
Grandmother: Hanka Vom Ziegenhainer Tal, International Champion V. CGC, HD-Good
Health and Bloodline Conclusion: 4 generations (13 dogs) of this pedigree have been tested for Hip Dysplasia, with 100% being rated normal/good. This specific lineage also has four (4) separate dogs with Deutsche Demokratische Republic (DDR) "East Germany" pedigrees.
Starting in 1949 and up to 1989 the communist East German government controlled breeding and bred these German shepherd dogs to be robust with big bones, straight top lines (backs), and thick dark pigmented coats. These dogs are known to have large heads, with a lot of drive and determination; they were bred for temperament and power, and also to withstand harsh weather conditions. Any GSD displaying any weakness was discarded.
Schwarzbaren's Dam AKC Shoka Der Wachhund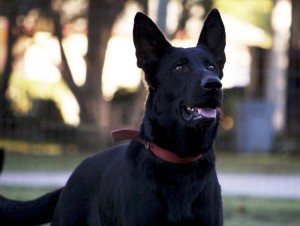 Shoka has a great West German imported pedigree. Both her parents are imports that have very strong working lines on both sides of the pedigree. Shoka has the "a" recessive black gene which can sometimes produce beautiful solid black coats.
Color: Black
DOB: 1/27/2012
Sire: Diddy Von der Costa Brava-V, SCHH 3, World Team Qualifier. HD-Normal (a1)
Shoka's Dam Enka-SCHH 1 has passed the AD (12 mile endurance test) and the BH (obedience test/traffic temperament test). HD-SV; HD normal l (a1).* Note: This is the best HIP rating possible from the SV.
Health and Bloodline Conclusion: This pedigree appears to indicate all dogs in this lineage were registered in Germany. For four (4) generations, 14 out of 15 dogs from this pedigree were tested for HD, with 100% rated with normal results. Recent generations appear to be black, bi-color and sable.
When interested a buyer can submit for Certification by the Orthopedic Foundation for Animals (OFA) of an Excellent, Good, or Fair Hip Evaluation. Buyer assumes all costs related to such OFA certification. http://www.offa.org/